Genocide in the Modern World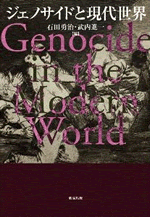 Preface
Yuji Ishida
Part I Perspectives of genocide studies
Chapter 1 The issues and range of genocide studies
Yuji Ishida
Chapter 2 Examining the history of research on genocide
Masaki Sawa
Chapter 3 "Genocides" that escaped punishment
Yuko Matsumura
Chapter 4 Holocaust and colonialism
Jürgen Zimmerer
Chapter 5 The science that supported the Nazi genocide
Yuji Ishida
Chapter 6 Population movements, ethnic cleansing and genocide
Atsuko Kawakita
Chapter 7 War, genocide and the responsibility for them
David Cohen
Part II Case studies of genocide
Chapter 8 A consideration on the "Armenian genocide"
Takayuki Yoshimura
Chapter 9 Azerbaijan
Yoko Hirose
Chapter 10 What happened in Srebrenica?
Yukie Osa
Chapter 11 What caused the genocide in Rwanda?
Shinichi Takeuchi
Chapter 12 The unfolding of the Darfur Conflict and genocide
Shinichi Takeuchi)        
Chapter 13 The Khmer Rouge facing trial
Ben Kiernan
Part III Genocide prevention studies
Chapter 14 The establishment of the ICC and the punishment and prevention of genocide
Miwako Fukunaga
Chapter 15 The role of local justice in post-conflict societies
Kyoko Cross
Chapter 16 The efforts at the United Nations to construct a system of "genocide prevention"
Mayumi Watanabe
Chapter 17 A theory of peace-building for the prevention of genocide
Yasunobu Sato
Part IV Appendices
Appendix 1 The definition of genocide in international law
Appendix 2 Record of research activities
Appendix 3 Guide on basic literature and books
Afterword
Yuji Ishida